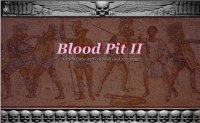 Game Title: Adventurers of Renown: Blood Pit 2
Current Version: 14.0 (stable since: 2 Jan 2014)
Game mechanics: Match 3, RPG
HTML5 Format: Phaser v2.x.x; Phaser v3.16+
Flash Format: CS4, ActionScript: 3;
Sku: $12 Annual License Subscription (See option below)
Sku: $48 1‐time License Fee (See option below)
Game Description:
How long can you survive the Blood Pit? Slash and cut your way to the top of this Arena Gladitor game of pure skill and strategy game. Time your cuts, block attacks or simply collect jewels and fame until you die! Blood Pit 2 is an IGM (Integrated Game Module) of the Legends of Renowned Deeds (LoRD) RPG. Play as a stand-alone adventure or join the thousands of characters in LoRD.
Game Features:
Single, Multiplayer (hot seat) or Multiplayer teams (remote)
Save your characters
Import characters into other PBMCube games.
Win awards, badges, titles, fame, wealth and renown.
use your social network to login! and save your game settings!
full version online RPG.
35 languages supported.
Market Saturation:
hosted on 23 websites.
25,437 total games sessions.
27,696 total games plays.
1.7 average game plays per gamer per host.
38,919 total game‐ad impressions.